A very healthy and genuine dish, thanks to its two basic ingredients: tuna and rice. You can also serve rice with marinated tuna as a single dish, for a light lunch or an evening that you want to stay light. 
The important thing is to have the raw material, first of all, tuna, of good quality and to follow the instructions contained in this recipe of Japanese cuisine in a Mediterranean version.
Ingredients
150 g of sushi rice
2 tablespoons of white sesame seeds
4 tablespoons of soy sauce (salty)
2 tablespoons of mirin (Japanese rice wine)
2 tablespoons of sake (or 1 tablespoon of mitsukan and 1 tablespoon of water)
150 g thinly sliced ​​yellowfin tuna fillet
1 spring onion, cut into thin slices
½ sheet nori, torn into large pieces
Wasabi
salt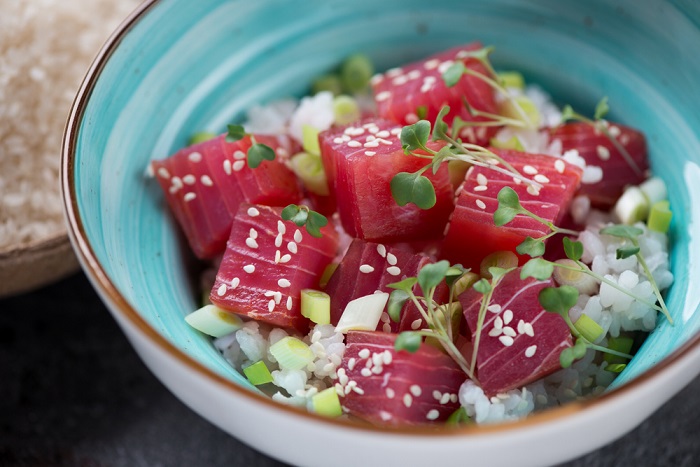 PREPARATION
Rinse the rice at least four times with cold running water. Drain it and set it aside for about 20 minutes.
Meanwhile, fry the sesame seeds in a dry skillet over medium heat until golden brown and set aside.
Put the rice in a saucepan, add an equal amount of water, and a pinch of salt. Bring to a boil, cover, and simmer gently for 15 minutes.
After that, let the rice rest over the heat and with the lid on for 15 minutes to cool slowly.
Put to marinate the tuna in a mix with the soy sauce, mirin, and sake for 2-3 minutes.
Serve the rice in a bowl, adding the spring onion cut into rings and the nori. To this base, add the slices of marinated tuna with a final sprinkling of sesame seeds.
Serve the bowl with some wasabi on the side to add.
Adapted and translated by The Wiki Avenue Staff
Sources: Non Sprecare