Create a festive atmosphere with the materials at hand and distract guests from food.
Make your party themed.
It seems that this will only add costs for entourage and creating an atmosphere. In fact, you can turn the situation in your favor.
For example, usually, you try to anticipate all guests' tastes and buy different alcohol, and even with a margin. For a Mexican party, you can limit yourself to tequila; for a German one – beer. And in Chicago in the 1920s, there was no law at all, so the booze would only be available if someone smuggled it in.
Make the decor yourself.
You didn't skip labor lessons at school, did you? It's time to remember what you were taught there. Instead of spending a fortune on decorative items, make them yourself.
Buy a roll of wrapping paper, cut flags out of it, attach them to a rope – and the festive garland is ready. Take out the LED garland. It creates a festive atmosphere not only in the New Year. Blow up balloons, hang funny photos from your past parties in the same company around the house – the more you fantasize, the more you save.
Make cocktails
Cheap alcohol is a bad idea. You will see that the next morning. Therefore, it is better to use high-quality alcohol sparingly. Soda, juices, syrups are inexpensive, and mixing drinks will be an element of entertainment.
You can prepare cards with recipes or invite guests to dream up additives (different alcohol types should not be thoughtlessly mixed). Place your bets on long drinks, save shots for better times.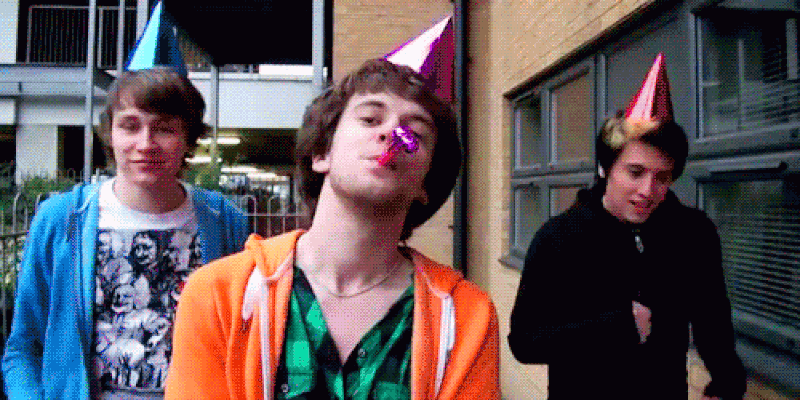 If you don't feel like fantasizing, remember about the existence of sangria, mulled wine, grog, and punch, which will help save alcohol and provide everyone with delicious drinks.
In order not to stand at the stove for the whole holiday, warming up the drinks that are served warm, pour them into the multicooker and turn on the heating mode. This will keep your mulled wine or grog at the same temperature, but not boil.
Invite guests to bring alcohol
Alcohol is the most expensive expense when it comes to parties. Therefore, it is perfectly normal to ask guests to wrap up in the store on the way to your place and provide themselves with alcohol of their own taste.
Cover the table with joint efforts
Prepare your signature dish and ask your guests to do the same. This will save you money, time, and a truly varied meal.
Don't skimp on disposable tableware.
Disposable cups and plates are a lifesaver for the party host because they shorten the party's cleaning time. And you shouldn't save on them. Buy enough crockery for guests to throw away when they get dirty.
Opt for colorful cardboard cups and plates. Firstly, plastic cups look dull and messy – you are having a party, not a binge in the entrance. Save a penny and spoil the holiday atmosphere. Secondly, remember about ecology.
Arrange a buffet instead of a feast
Many people associate house parties exclusively with feasts. But it is much more convenient to communicate when the table is set against the wall, and guests move freely around the room.
In this case, full-fledged hot dishes are not prepared: they are inconvenient to eat while standing. Instead, snacks are offered: sandwiches, tartlets, and so on. Needless to say, breadsticks with sauce will cost much less than a chop with a side dish.
Invite people you feel comfortable with
Parties are made for fun. You don't have to turn them into a vanity fair. But everyone has a couple of acquaintances who expect to be surprised, sit with sour faces, assess the quality of the holiday in terms of its costs.
It is better to cross such people off the guest list. Otherwise, by thinking about them when preparing a party, you run the risk of not resisting unnecessary expenses.
Take care of the entertainment.
People often eat out of boredom at parties. It is worth coming up with an interesting activity and reducing the chances that a poorly laid the table will be empty by the middle of the holiday.
Put valuables away
If a guest accidentally spills juice on your laptop keyboard or breaks a Qin vase, the budget party will end up at a very high cost.
Adapted and translated by Wiki Avenue Staff
Sources: Life hacker