DIY – Which wall to choose? How to build the structure? How to install the sockets? Climbing pros advise you!
What's better than a swing in the living room? A climbing wall in the bedroom! It's ideal for your energetic children to let off steam and develop their agility.
We asked climbing professionals for their advice on making this project a success, in complete safety.
For this first project, we will keep it simple, and we will focus on the little ones, from 2 to 10 years old. For the older ones, over 10 years old, already introduced to the sport, or for yourselves, you might consider creating a more complex wall to climb. Follow the advice of La Fabrique Verticale, a coaching site for climbing enthusiasts, to create a real training wall.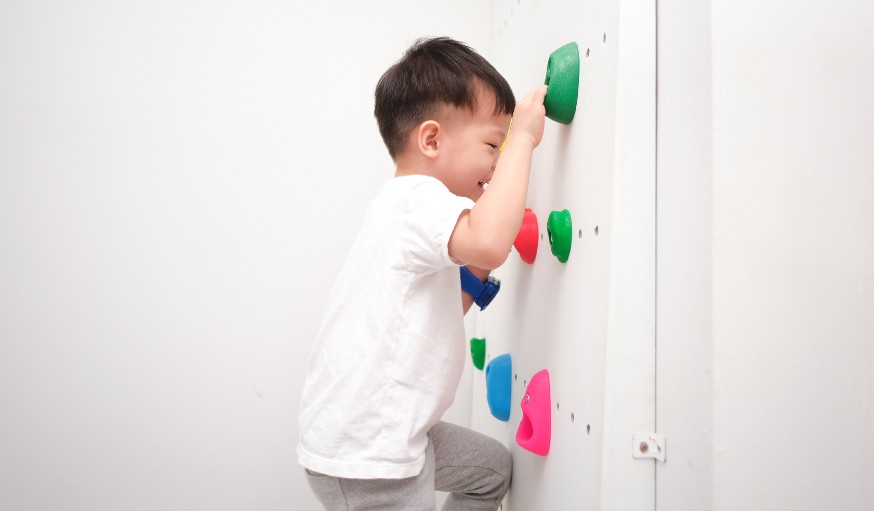 Which wall to use?
The easiest way is to create a small vertical climbing wall. For this, the first thing to pay attention to is the nature of the wall on which you are going to attach it. "The wall must be solid and not hollow, recommends Pascal Trividic, manufacturer of climbing walls in sports halls but also in private homes, with Optimus. This does not necessarily have to be a load-bearing wall, if it is a concrete or wood frame partition, it works. " No hollow brick, however!
At home, it will be much easier and safer to choose a solid wall. It happens that Optimur installs a climbing wall against a cavity wall in private homes, but for this, they fix new beams in the floor slab and on the ceiling. Nothing rests on the wall itself. For this type of project, or if you are not sure enough about your DIY level, do not hesitate to call on these professionals!
What Height for your Climbing Wall?
"A child can climb up to 3 m in height without a rope if there is a good landing surface, that is to say approved mats 30 to 40 cm thick," says Pascal Trividic.
But at home, you can see smaller: up to 1.20 m high, your child will be able to climb on their own, provided they provide a mat 5 cm thick. Above, stay with it to hold it back in case of a fall.
"The best is to favor a structure that is wider than it is high, which allows the child to make crossings," advise Olivier Broussouloux and Laurence Guyon, the coaches of La Fabrique Verticale.
How to make the structure?
You are not going to screw the sockets directly into the wall, but use plywood panels, which in turn will be screwed onto cleats.
Choose cleats 95mm wide by 45mm thick, like Optimur does. These 45 mm thickness allows to keep a space between the panels and the wall, so that you have the space to screw the sockets without drilling the wall.
To fix these brackets to the wall, do not screw directly into them. Otherwise, the screw will create extra thickness, and you will not press the panels perfectly. Instead, use squares, which you will screw on the side of the cleats. Plan 3 brackets per upright, one 20 cm from the ground, one in the middle of the structure, and one at the top, advises Pascal Trivedi.
Then, he recommends using birch plywood panels, 18 mm thick and 13 plies, "ultra-resistant to pulling." You can choose raw panels in DIY stores or resin and sanded panels (which gives a little grip for the hands) from specialists such as Osmose or Altissimo.
Screw these panels onto the cleats, with screws 5 mm in diameter and 60 mm in length: one screw every 15 cm on each cleat.
How to install the sockets?
The easiest way is to buy professional sockets, specially designed for children. "There are ranges of grips in the shape of large numbers of animals, it is both attractive to children and adapted to their grip," specify Olivier Broussouloux and Laurence Guyon.
Provide knock-on nuts (or knock-on inserts, or T-nuts), not supplied with the sockets, with a diameter of 18 mm, and the corresponding screws.
Alternatively, they explain, it's possible to create holds yourself by cutting circles or squares with a jigsaw from the plywood panels. Be sure to round off and sand the corners, and not to create openings that are too large, in which children could slip their hands or their feet.
Plan catches every 15 cm, either by drawing vertical lines or by drawing horizontal lines.
How to protect your children from falls?
As we have seen above, above 3 meters, you will need to provide carpets 30 to 40 cm thick. Below, rugs 5 cm thick will suffice. Of course, this represents an investment. Otherwise, you can put mattresses under the wall, but your installation will not be approved to accommodate other children.
If you install several mattresses side by side, Olivier Broussouloux and Laurence Guyon advise laying carpet on top to prevent your children from getting their foot stuck between two mattresses.
Adapted and translated by The Wiki Avenue Staff
Sources: 12h39