Have you been wondering how this delicious Harissa sauce is made? Worry not, as we have got the recipe for you. Read on to find out more.
Ingredients
For about 400ml of Harissa, you will need.
– 2 red peppers
– 1 teaspoon of coriander seeds
– 1 teaspoon of cumin seeds
– 1 teaspoon of fennel seeds
– 3 tablespoons of olive oil
– 1 medium-sized red onion cut into small pieces
– 4-5 coarsely chopped garlic cloves
– 5 tablespoons of freshly squeezed lemon juice
– 3-5 hot red chilies coarsely chopped or put in a mortar, we leave the seeds
– 2 generous spoons of tomato paste
– Salt just enough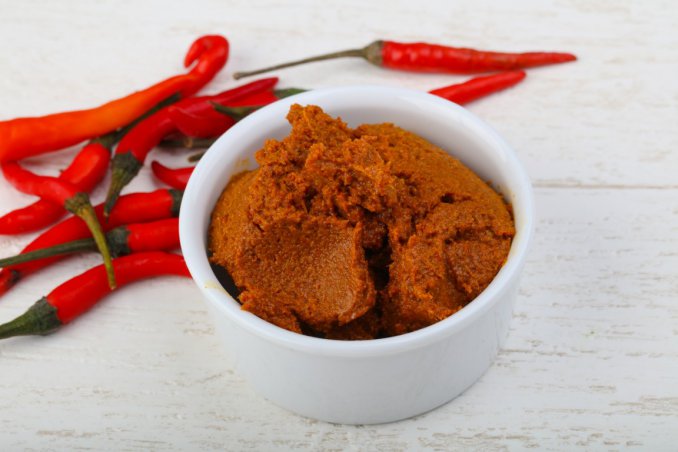 Harissa is a sauce of Tunisian origin, from the pleasant spicy scent. In North Africa, it mainly accompanies grilled meat and fish, but it is also a pleasant diversion to make roasted or stewed vegetables and soups, rice, and couscous more appealing.
Needless to say, Tunisian cuisine offers us a highly versatile condiment, which we can also use to fill canapés or flavor our vegetable crudités, making brunch or aperitifs more ethnic.
Also, the Harissa lends itself well to any variations, for example, by inserting more or fewer peppers to raise or reduce the degree of spiciness. By modifying the original recipe, we can, in fact, obtain a more or less spicy version, able to adapt perfectly to the type of menu we had imagined.
Method
Put the peppers on a hot grill or in the oven to dry. When they are ready, let them cool for a few minutes, then remove the peel, cut the pulp and remove the seeds.
In a pan, toast the coriander, cumin, and fennel seeds for a few minutes, after which, transfer everything to a spice grinder and pulverize. Alternatively, you can use the mortar.
Fry the onion in another pan, along with the garlic and chopped chili. Let everything brown for about ten minutes, or in any case, until everything is perfectly soft and almost caramelized.
In the last step, put these and the other ingredients in the mixer except the oil, which we will pour in while the machine is running. Taste and season with salt if needed.
Adapted and translated by Wiki Avenue Staff
Sources: Donnad
References
Cotton Candy: The Delicious Recipe – Cotton Candy: The Delicious Recipe – Wiki Avenue