The cotton candy is synonymous with village fetes and meetings playful at the carnival. They are loved by children, it looks like a soft and often colored cloud and is usually prepared with a special machine. But it is also possible to easily prepare it at home to make the little ones happy or cheer up a birthday party. Arm yourself with a whisk, skewer sticks, a cooking thermometer, and baking paper. Here is a full recipe.
Ingredients
250g of granulated sugar
Liquid food coloring
200ml of water
Corn syrup to taste
The procedure
First, color the sugar with a few drops of liquid food coloring and leave the sugar to rest in an airtight container for 24 hours.
As soon as the sugar is dehydrated, pour it into a tall metal saucepan adding cold water, and melt it over low heat. Mix with a spatula without letting it boil.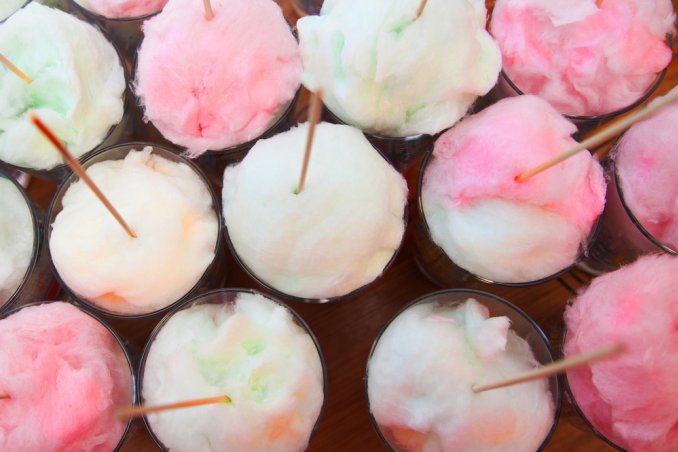 Once completely dissolved, being careful not to burn it, add some corn syrup. Then raise the flame without it touching and overheat the edges; otherwise, it hardens or burns. To avoid this, brush the inside of the saucepan with water from time to time.
Bring to a boil and cook without a lid, stirring constantly. As soon as the temperature of 160C° is reached, turn off the stove and immerse the pan's base in cold water to stop the cooking of the sugar until it begins to thicken.
At that point, it is ready, and all that remains is to collect the sugar directly from the water with a whisk and place it on a sheet of baking paper, moving the whisk back and forth until creating threads: collect the threads and make a cheerful nest. Finally, insert a stick into the soft mass and consume immediately. A tasty way to present it at the table is to prepare it in various colors and place it in glass glasses.
Adapted and translated by Wiki Avenue Staff
Sources: Donnad