Chicken rolls in the oven are a tasty, healthy, and light dish that is safe for the figure. We offer dried apricots, prunes, and hard cheese as a filling for them. From the specified number of ingredients, You can get six rolls. Read on.
Time for preparing
Calorie content
Ingredients
3 chicken breasts
12 pcs. dried apricots
12 pcs. prunes
Cheese
Natural yogurt, sour cream, or kefir
Salt pepper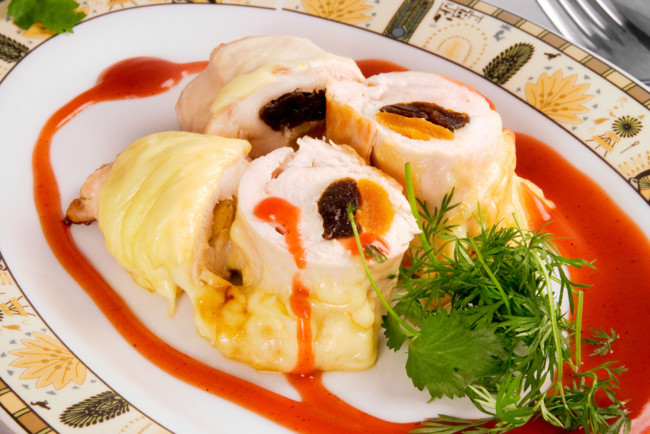 Cooking method
Pour dried apricots and prunes in hot water. Let stand for half an hour, then rinse and dry.
Then cut the chicken breast lengthwise into two, beat off a little salt and pepper to taste.
Put a slice of hard cheese, dried apricots, and prunes on the breast. Each roll should contain two dried apricots and two prunes.
Roll up into rolls, stab with a toothpick.
Put in a baking dish, grease with yogurt, sour cream, or kefir on top.
Bake in the oven at 200° C until tender. Do not dry out.
How to serve rolls
Transfer the rolls to a dish and cut into portions. Decorate with sprigs of herbs and serve with any side dishes and sauces you like.
Adapted and translated by Wiki Avenue Staff
Sources: Today Lifestyle