Aspic is one of the most traditional dishes on the Christmas table. To make the pork jelly transparent, do not forget to remove foam and scale during cooking. To keep the broth clear, strain it through 2 layers of cheesecloth. When the finished jellied meat hardens, remove the layer of fat from its surface.
Time for preparing
Calorie content
Ingredients
3-3.5 l of water
1 pork knuckle (1-1.5 kg)
1 carrot
1 onion
1/2 tsp salt in 1 liter of broth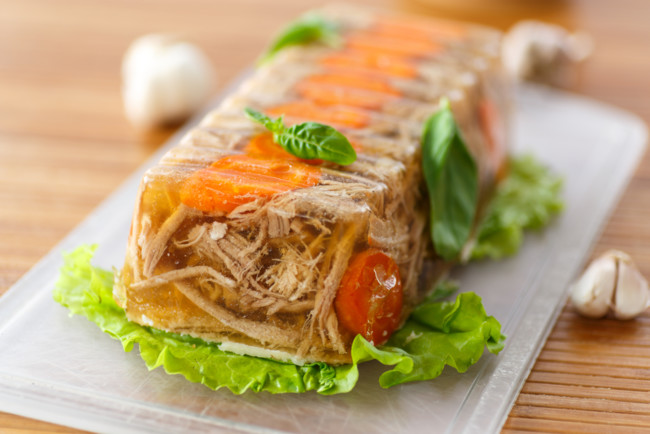 Cooking method
Rinse the shank well.
Put the shank, peeled carrots, and onion in a saucepan. Cover with cold water. Cook until boiling, remove the foam, strangle the heat to a minimum and cook for 3 hours under a closed lid, not allowing the broth to boil.
Strain the broth and salt well, separate the meat from the bones.
Cover the form with cling film and layout the meat in a dense layer.
Pour the broth over the meat. Cover with cling film.
Cool in the refrigerator overnight.
How to serve pork aspic
Put the finished jellied meat out of the mold and cut into portions. Place on a platter and serve with mustard and horseradish.
Adapted and translated by Wiki Avenue Staff
Sources: Today Lifestyle