In general, to order the stationery, take all the items that are in a drawer, pens, sheets, markers, glue, scissors, stapler, and divide them according to the criteria that you will see. You then move on to things in another place and so on until all the stationery is gathered on a table.
Here's what to do specifically for stationery decluttering.
1) As you take the objects in your hands, test the colors, highlighters, pens, markers, and throw away the ones that no longer work in the garbage, there are also notebooks full of notes that you do not need (check carefully), the sheets on which it is no longer possible to write, the broken penknives, the cases that cannot be repaired.
2) Are there any materials you can recycle? Put them in the corner of the table. They can be colored sheets to reuse decoupages or sheets with a white side to write notes. For the latter, when you've collected them all, pin them at the top, and you'll have a DIY notepad.
3) Are there things in good condition that you don't want to keep or throw away? Put them in an envelope or a box and give them to associations, friends, or even family.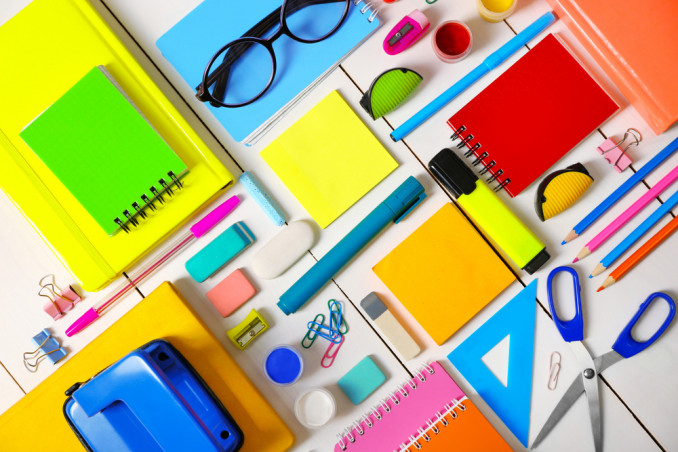 4) Do you have a stationary object that you neither want to throw away, give, nor need to recycle; it is something you need. Well, place it in its category. On the table or the shelves you have available, organize different groups of objects, so there will be the corner of the pencils, one of the colors, the one for the paper clips, the one with the materials for creative work, the one with the elements that decorate the gifts: whenever you have an object to keep, put it in its group.
5) Once you see everything, you can decide how to arrange the stationery items. The basic rule is to collect and store similar objects together. So you can use jars, containers, DIY organizers, cases. For post-its and the like, you could make a folder on which to glue the materials.
6) Find a place for each container, possibly in the same place, such as a drawer or a countertop. Within this space, you can also divide the materials you use most often and those you will use over time, or you can identify two different areas for the two types. Of course, it also finds a place for materials to be recycled.
7) When decluttering the stationery, you can also write down the things you miss and how much you already have so you avoid repurchasing it.
Adapted and translated by Wiki Avenue Staff
Sources: Donnad