To have an aesthetic and functional bathroom, furnishings are not the only thing to think about, as accessories are also an important part of this room's interior design. It is essential to coordinate the entire environment o avoid buying objects that clash with the rest of the furniture.
Therefore, purchasing bathroom accessories must be made simultaneously with the choice of furniture and ceramics and that of more classic accessories, such as the mirror above the sink. If we manage to coordinate each piece correctly, our bathroom look will look tidy and worthy of an industry magazine.
Let's see some ideas for bathroom furniture and matching accessories, and let's the best channels for purchases. An important thing to say is that shopping in a single store, choosing models from the same line or complementary lines, is an easy and quick solution to avoid making mistakes.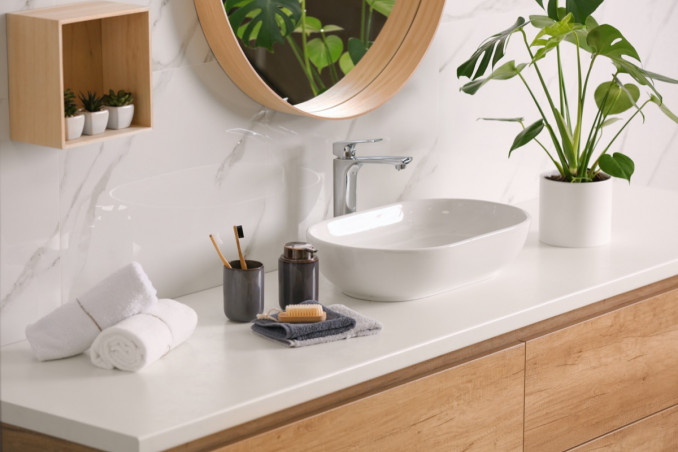 At IKEA, for example, you can choose bathroom furniture with a minimal and typically Scandinavian style, but also complementary lighting and coordinated accessories. But if the bathroom needs a little restyling and we have to buy the latter, we can also go to specialized furniture stores, where there is a wide choice of styles and proposals.
And if we want to keep costs down, the network offers us many online shopping sites dedicated to furniture and the bathroom, where even design objects have lower prices. As for the styles, if the environment is classic, the accessories must be strictly minimal in style to avoid weighing down the rest of the furniture.
A soap dish and a set of toothbrush cups plus optical white wipes are a great choice in these cases. But in reality, we can also dare with other nuances, preferring natural colors and monochromatic, which is less noisy than prints and lends itself to any subsequent bathroom furniture changes.
If we liked the shabby chic mood, exposed wood, and bleached steel effect are also the keywords for accessories. On the market, we can find beautiful and functional tissue holders and adhesive shelves.
Adapted and translated by Wiki Avenue Staff
Sources: Donnad