Are we down in the dumps, or is the day just gone to forget? If you want to pamper yourselves with a little sweetness, then try a couple of toffee candies; their intense flavor will regenerate you! The candy recipe loved by young and old, which has English origins (known as Toffee), is easy to prepare even at home. Why not try? The ingredients are few ( 200g of sugar and 60g of whipped cream). Here is a full recipe.
Process
Take a copper saucepan (and therefore non-stick), cook, over low heat, stirring occasionally. In another saucepan, heat the whipped cream. At the same time, caramelize the sugar until it reaches an amber color. When the sugar is completely dissolved, turn off the heat, add the hot cream, and then mix until a homogeneous cream is obtained.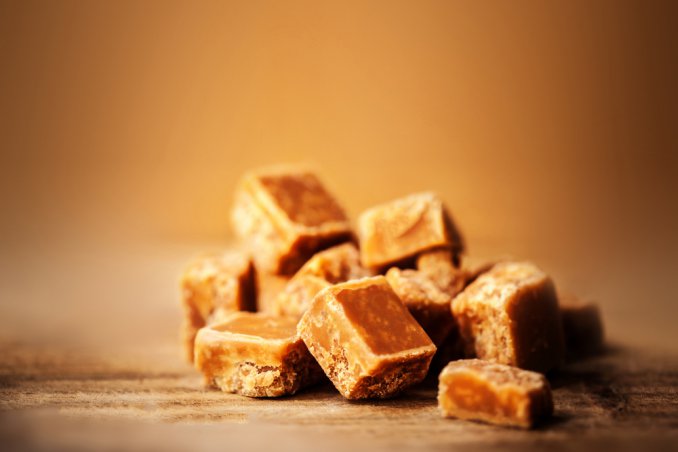 Pour the mixture into silicone molds (better those for chocolates that have more original shapes!), Then put the candies in the fridge so that they solidify, for 3 hours (at room temperature, it would take about 9 hours). If you don't have the molds, use a rectangular cake pan lined with baking paper once the mixture has solidified, cut the rectangular bar into squares.
Remove the toffee from the molds and put them in an airtight glass jar, and they will last for weeks; if you want to give them as a gift, wrap them individually with some transparent or colored paper for food. Roll up to the sides. They will be very popular with adults and children.
How to make Toffee, the milk chocolate variant
If you are particularly greedy or have children at home, it is advisable to try the milk chocolate variant. Just chop 100g of milk chocolate and add to the mixture in the last phase of preparation after having blended the cream. Melt the chocolate well, and mix before inserting it into the molds.
Adapted and translated by Wiki Avenue Staff
Sources: Donnad