Delicious home-style lasagna with meat and white sauce is a great idea for a hearty family dinner. The dish will be much tastier if you cook the minced meat yourself. Here is more.
Time for preparing
Calorie content
Ingredients
For the basics
2 tbsp olive oil
900 g ground beef
2 onions
2 cloves of garlic
2 tbsp flour
150 ml beef broth
3 tbsp tomato puree
1 tsp thyme
400 g canned tomatoes in pieces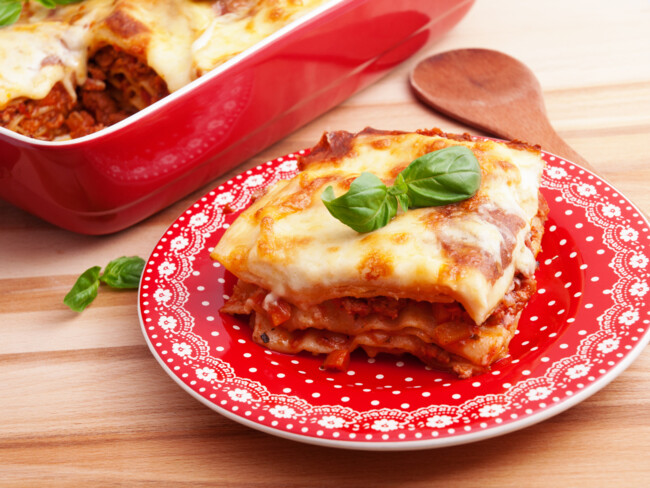 For the béchamel sauce
50 g butter
50 g flour
750 ml hot milk
2 tsp dijon mustard
50 g parmesan
Salt and pepper
For lasagna
12 sheets of lasagna
75 g hard cheese
Cooking method
Heat the oil in a large skillet and sauté the minced meat, crushing the lumps with a spatula. Then add the chopped onion and garlic.
When the mixture is browned, add two tablespoons of flour, tomato puree and thyme, and canned tomatoes. Put out well.
Make béchamel sauce. To do this, melt the butter in a saucepan, add the flour and cook for one minute, stirring occasionally. Stirring in the same way, gradually pour in warm milk and keep on low heat until thickened. Add Dijon mustard, grated Parmesan and season well with salt and pepper.
Spoon one-third of the meat sauce evenly into a large but shallow baking dish. Top it with a third béchamel sauce and cover it with a layer of lasagna pastry sheets. Top with a third of the meat sauce and add a third of the bechamel.
Layout another layer of dough sheets. Top with the meat sauce and bechamel again. Sprinkle with cheese on top.
Refrigerate the lasagna for six hours to soften the dough.
Bake for about 45 minutes at 200° C. Serve the lasagna hot.
Note: If you don't want to put the lasagna to soak in the refrigerator, boil the dough sheets.
Adapted and translated by Wiki Avenue Staff
Sources: Today Lifestyle