Not sure how to make pumpkin pancakes? There are a lot of recipes for this dish. We suggest making pancakes from grated raw pumpkin with the addition of apples. You can add sour cream, jam, maple syrup, or honey to pumpkin pancakes.
Cooking time
Calorie content
Ingredients
400 g pumpkin
2 eggs
2 apples
2 tbsp Sahara
1/2 tbsp. flour
Sour cream – for serving
Salt
Vegetable oil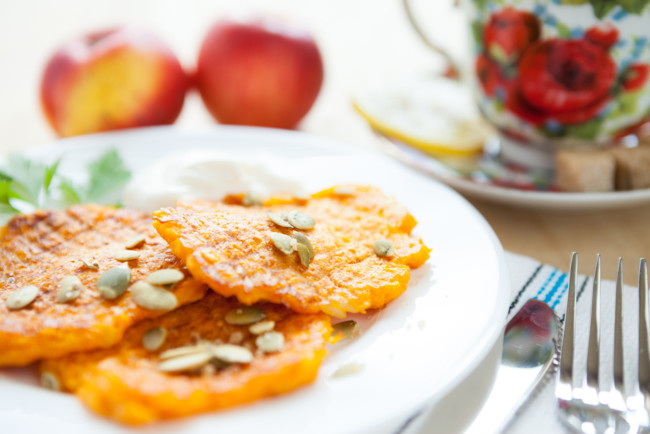 Cooking method
Peel the pumpkin and apples, and grate.
Beat eggs with sugar and stir with pumpkin and apples, salt. Add flour and mix everything well. The consistency of the dough should be similar to thick sour cream.
Heat a skillet with vegetable oil. Fry the pancakes until golden brown over medium heat on both sides. Serve immediately with sour cream.
Useful advice
What grater is better to grate pumpkin and apples? It all depends on what kind of result you want to get. For those who prefer soft and tender pancakes, it is better to use a fine grating grater. For those who prefer crispy toasted pancakes, a larger grater is suitable. Well, for soft pancakes with a crispy crust, use a medium-sized grater.
Adapted and translated by Wiki Avenue Staff
Sources: Today Lifestyle